There are mornings that I wake up and I don't feel like I am the right person for my position. This happens for any number of reasons:
I feel like there are a thousand people out there that could do the job better than me
I wonder if any of the students even listened to what I had to say
I felt like I just delivered the worst message in the history of messages
and sometimes I just don't feel worthy. Worthy to be called pastor. Worthy to serve God.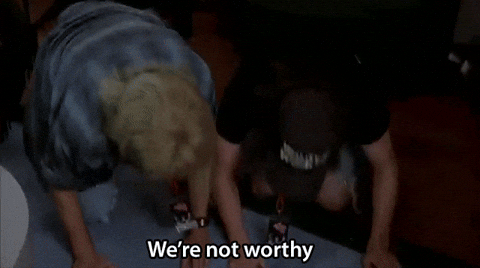 Our youth ministry is currently walking through the Book of Exodus. This past week, I was preparing for my message on Exodus 3-4 and I felt like I was reading straight from one of my own conversations with God.
Four reasons why Moses doesn't feel worthy for what God is calling him to do:
3:11 Who am I?
4:1 They aren't going to believe my story!
4:10 I don't have the right abilities!
4:13 God, I can't do this!
The question that Moses and I both struggle with is,
"What qualifies someone to be used as God's messenger?"
Now before you throw the qualifications found in 1 Timothy and Titus in my face, what happens when you meet those qualifications and yet still don't feel worthy?
I think this answer can be found in how God, in the burning bush, responds to Moses over and over again:
God's reassurance in the midst of our ignorance
3:12 The LORD will be with you (it's not about you)
4:2 The LORD will give you physical proof (it's not about you)
4:11 The LORD created the mouth (it's not about you)
4:14 Are you kidding me?! (it's not about you)
The most worthy candidate for serving God doesn't start with a list, it starts with submitting your life to God.
Serving God is not about you; your qualifications, your messages, or your skills. When we reason that our inadequacies are bad enough to be "unworthy" of God's calling, we are consequently confessing our disbelief in God's adequacy. Blinded by our faults and failures, we look at ourselves and say, "The enabling power of the Creator is not able to work through me."
If you know and love God, then you have been qualified for service towards Him. We are capable because we are qualified to serve through the blood of Jesus. Since Jesus died for us and the Spirit sustains us, we can minister to those enslaved to sin. God wants to reveal His strength through your weakness.
Will you let go of your qualifications and rest in the Lord's qualities?
---
Like Moses, how many people continue to look at the gift of speaking as the fatal defect to their success in ministry? Those who enter into God's service must become eloquent and successful speakers. This presupposes that the gift of speaking is the ultimate prerequisite for ministry. We too have fallen into Moses' feelings of inadequacy in hopes to leave ministry up to the "professionals." Have we forgotten the words of 1 Corinthians 2:1 that say, "And I, brethren, when I came to you, came not with excellency of speech or of wisdom, declaring unto you the testimony of God."